MHA is committed to working with member hospitals, the Governor's administration, the legislature, other providers, and most importantly, patients, to curb the current opioid crisis in Massachusetts. Below please find a series of guidelines developed by MHA to assist hospitals in creating programs for Medication for Addiction within the Emergency Department,  Opioid Management within a Hospital Setting, Emergency Department Opioid Management, and for Preventing Opioid Misuse in Hospitals.
Additional resources below include: websites to identify substance use disorder treatment providers and locations, training to allow practitioners to prescribe buprenorphine, and websites with information from experts in substance use disorder treatment.
Updated Guidelines for Substance Use Disorder Evaluations
MHA, in collaboration with the Massachusetts College of Emergency Physicians, has developed guidelines on Substance Use Disorder Evaluations (SUDEs). Chapter 52 of the Acts of 2016 requires any patient arriving in an emergency department (ED) or a satellite emergency facility (SEF) who is experiencing an overdose or who was administered naloxone before arriving, to undergo an SUDE within 24 hours. Chapter 208 made several updates to SUDEs and these updated guidelines reflect those changes.
The guidelines are available here: MHA – MACEP Joint SUDE Guidelines
Additionally, the SUDE statute requires five criteria that must be part of the SUDE and incorporated into the hospital medical record. While providers are able to develop their own form or process for obtaining this information, the Massachusetts Behavioral Health Partnership (MBHP) has developed a form for adult populations and a form for youth. Please note that nothing precludes a provider from developing a format or process within their own EMR or other system.
The two MBHP evaluation forms are available here:
ESP Adult Comprehensive Assessment
---
Guidelines for Medication for Addiction Treatment for Opioid Use Disorder within the Emergency Department
MHA, in collaboration with the Massachusetts College of Emergency Physicians and with practitioners from member hospitals, including specialists in emergency medicine, addiction medicine, behavioral health, and nursing, developed these guidelines to assist hospitals in developing Medication for Addiction Treatment (MAT) programs in emergency departments or satellite emergency facilities.
These guidelines focus primarily on buprenorphine, which has the most well-developed evidence base for feasibility and efficacy in the emergency department setting. The information includes:
Clinical and operational recommendations;
Prescribing guidelines, including information for practitioners on how to obtain an X waiver to prescribe buprenorphine;
Information on the laws and regulations in place to allow hospitals to discharge patients with a take-home kit of buprenorphine;
Template/customizable patient fact sheets; and
A provider directed Q & A.
The guidelines are available here: Guidelines for Medication for Addiction Treatment for Opioid Use Disorder within the Emergency Department
Customizable versions of the two patient fact sheets are available here:
Template Patient Fact Sheet
Modified NIDA Guide for Patients Beginning Buprenorphine Treatment at Home
---

Section 35 Petitions – Standard Medical Information Release
Section 104 of Chapter 208 of the Acts of 2018 creates the Section 35 Commission and directs the commission, in part, to evaluate and develop a proposal for a consistent statewide standard for the medical review of individuals who are involuntarily committed due to an alcohol or substance use disorder pursuant to section 35 of chapter 123 of the General Laws. The commission's full scope is available here.
With regard to the commission's charge to develop a standard for the release of medical information, MHA convened a workgroup of hospital legal and clinical staff from across the commonwealth. MHA's goal was to develop consistent statewide standards for the medical information required to be released to court clinicians; MHA had heard members' concerns about the different processes courts follow for submission of medical documentation in support of a Section 35 petition, as well as medical staff confusion when interacting with more than one court. Please note that the following materials are designed to supply the courts with necessary medical information, and were not developed to change the overarching Section 35 process.
MHA worked closely with the Trial Court and DMH court clinicians to ensure the information would be acceptable and helpful to the courts when making a determination on the petition, and with care coordination following the court hearing. In addition, MHA worked with Dave Szabo, a partner, co-chair of the healthcare practice, and member of the privacy group at MHA's member law firm Locke Lord, to provide a legal memo outlining the legal permissions within federal and state laws for sharing the information to the courts in the manner outlined in the attached materials.
The materials we are requesting members use include:
Section 35 – Affidavit Letter: This is a template letter that MHA asks each provider to complete and attach to the "Affidavit in Support of Petition for Commitment under G.L. 123, Section 35." Please note that the provider should not complete the actual affidavit form (available here), but indicate on the form, "See Attached Affidavit Letter."
Section 35 – Checklist for Affidavit Letter: This is a reference guide for the hospital/clinician to understand what essential medical information is needed in the "Affidavit Letter" and additional medical information to be attached to the letter (lab and/or medication lists). Providers should not include additional information that is not listed on this checklist.
Section 35 – Privacy Memo: As outlined above, this is the legal memo provided by David Szabo, which was reviewed by the courts and EOHHS, which provides assurances that the information provided by a clinician to the court, as outlined in the documents above, would not be in violation of federal HIPAA or state privacy laws.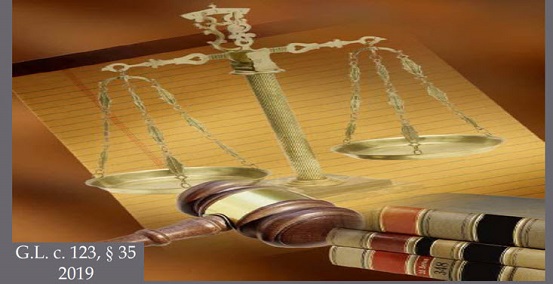 Webinar on Section 35 Petition Standard Medical Information Release
Massachusetts Health & Hospital Associations,  the Department of Mental Health and the Trial Courts hosted a webinar to discuss these forms, process, and to field questions from hospitals.  The slides from the presentation are available here.
---
Guidelines for Opioid Management within a Hospital Setting
The MHA Substance Use Disorder Prevention and Treatment Task Force (SUDPTTF) approved and issued a second set of guidelines outlining several provider and operational recommendations related to prescribing opioid and/or opiate medications within a hospital setting, including hospital owned/affiliated clinics or physician practices. The goal is to develop a general standard for limiting the use of or finding alternatives to prescription opioids.  We encourage all hospitals to adopt the recommendations.  The guidance includes the following materials:
---
Guidelines for Emergency Department Opioid Management
These guidelines establish a baseline emergency department (ED) operational practice that will: standardize opioid prescribing practices, provide guidance on screening patients seeking opioid prescriptions, offer information on appropriate pain management and treatment, and help identify resources for patients needing substance use treatment. The overall goal is to better enable ED providers to take an active role in limiting inappropriate access to opioid pain medications. The materials include the following:
---
Guidelines for Preventing Opioid Misuse in Hospitals
The Massachusetts Health & Hospital Association (MHA) and Tufts Medical Center, working with hospital clinicians and operational staff in Massachusetts and other states developed the following two documents that outline a patient centered approach to for the prevention of opioid misuse by patients admitted for care and treatment in a hospital inpatient setting:
The Inpatient Opioid Misuse Prevention Guidelines identify best practices (clinical practices and operational policies) to optimize patient care through standardizing
Screening for opioid use disorder among patients admitted for inpatient level care;
Prevention of inpatient acute opioid withdrawal through opioid agonist treatment (OAT);
Working with patients and visitors to identify and prevent non-prescribed opioids from being brought into a hospital setting.
The Patient and Family Agreement on Opioids was written specifically for patients, families, and visitors. Among the goals of developing a patient centric model of care, the document outlines the roles and responsibilities of the patient and families/visitors to work with hospitals to reduce the presence of non-prescribed opioids within a hospital setting that may adversely impact a patient's care and treatment.
---
Other Resources
Telemedicine is changing lives - including for students in North Central Massachusetts. Click here to learn more about Heywood Healthcare's Tele Behavioral School Base Counseling Program. ...

» Full Article

Through this report, the National Quality Forum (NQF) offers the Centers for Medicare & Medicaid Services (CMS) and other stakeholders a review of healthcare quality measures (QM) relevant to addressing America's opioid crisis. The report considers issues related to acute and chronic pain management and substance use disorders (SUD). It answers two guiding questions: (1) What are the priori...

» Full Article

It's a celebration of the strength of the recovery community and a reminder that treatment for substance use disorder works. Learn more and stay tuned for how MHA is helping recognize this important  #RecoveryMonth . Read more... ...

» Full Article

MHA and our colleagues throughout the state thank Congressman Richard Neal for his tireless advocacy in making sure we have the clinicians we need to address the #opioid crisis. ‪We join Congressman Neal in supporting the Opioid Workforce Act. #mapoli Read more... ...

» Full Article

The Massachusetts Consultation Service for Treatment of Addiction and Pain (MCSTAP) offers real-time, telephonic professional consultation to primary care providers and emergency department clinicians on safe prescribing and managing care for patients with chronic pain and/or substance use disorder (SUD). It also provides resource and referral information about community-based providers, programs...

» Full Article

Find physicians authorized to treat opioid dependency with buprenorphine by state. Read more......

» Full Article

Search for treatment by service, town and  search programs by gender, age health insurance or without health insurance. Read more......

» Full Article

Both National & Local Resources Available For nearly 25 years, BMC has been caring for patients with addiction, and recognizing that one size doesn't fit all when it comes to treatment. A national model for care, BMC has developed tailored treatment programs that meet patients where they are, be it primary care, prenatal care, psychiatry, adolescents, the Emergency Department, or as an in...

» Full Article

The most recent opioid law, Chapter 208 of the Acts of 2018, requires acute care hospital emergency departments to have the capacity to initiate opioid agonist treatment, including buprenorphine. To aid hospitals in implementing this policy, Boston Medical Center Office Based Addiction Treatment Training and Technical assistance (BMC OBAT TTA) offers free addiction trainings across Massachusetts ...

» Full Article

On Wednesday, October 10th -- 12:00 - 1:00pm The Joint Commission will host a complimentary webinar that will feature speakers Dr. Jeanmarie Perrone, of the University of Pennsylvania Medical Center, and Dr. Scott Weiner, of Brigham and Women's Hospital. They will share their experiences with setting up programs to encourage safe prescribing of opioids and reducing opioid-related deaths. Rea...

» Full Article