Advancing Excellence Releases Quality Improvement Monitoring Tools for Pressure Ulcers
One of the eight Advancing Excellence goals is to reduce pressure ulcers in nursing homes.  The following quality improvement monitoring tools provide valuable information on preventing, treating, and tracking ongoing and newly acquired pressure ulcers.
Prevention and Treatment of Pressure Ulcers: Quick Reference Guide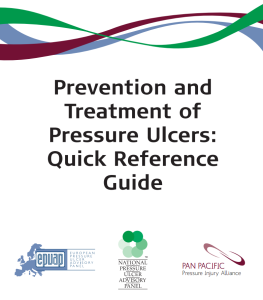 This Quick Reference Guide presents a summary of the recommendations and excerpts of the supporting evidence for pressure ulcer prevention and treatment. The more comprehensive Clinical Practice Guideline version of the  guideline provides a detailed analysis and discussion of available research, critical evaluations of the assumptions and  knowledge of the field, and description of the methodology used to develop guideline. This Quick Reference Guide is intended for busy health professionals who require a quick reference in caring for individuals in the clinical setting. Users should not rely on excerpts from the Quick Reference Guide alone.
This table can be used to identify possible change ideas to help you embed PFE strategies into your Hospital Acquired Pressure Injury (HAPI) prevention efforts. The examples below are designed to assist you in addressing the goals for each of the five PFE metrics while focusing on specific topic areas of the HAPI prevention bundle. Read more... ...

» Full Article

Resource Topics Include: Preoperative Pressure Injury Staff Skill Building Support Surfaces Patient Education Guidance Documents Preventing & Managing MASD & IAD Read more... ...

» Full Article