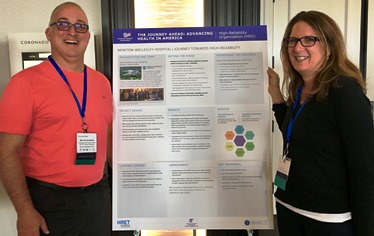 Newton-Wellesley Hospital's Bert Thurlo-Walsh, R.N., MM, CPHQ, Assoc. CQO/V.P., Patient Experience & Medical Staff Services and Dr. Janet C. Larson, Chief Quality & Experience Officer were invited to the Health Research and Educational Trust (HRET) Hospital Improvement Innovation Network (HIIN) The Journey Ahead national conference in San Diego last month to present their hospital's poster on their journey to become a high reliability organization (HRO).  
 The HRET/HIIN conference preceded the American Hospital Association's leadership conference.poster presentation on the hospital's journey to become a high-reliability organization (HRO) was featured
HIIN comprises 32 state hospital associations, including MHA, and more than 1,600 hospitals collaborating to reduce inpatient harm and readmissions. For participating hospitals, HIIN provides, among other benefits, guidance and assistance for becoming an HRO.
High-reliability organizations operate in complex, high-hazard domains for extended periods without serious accidents or catastrophic failures. To become an HRO, an organization does not merely follow certain best practice processes for improving safety, but also changes its culture, ensuring that everyone on staff is ever-mindful of the need to relentlessly prioritize safety.
Newton-Wellesley's presentation outlined its challenges—executive leadership changes and solid but stagnant patient experience and staff engagement scores—and the following steps taken toward becoming an HRO:
Dr. Michael R. Jaff, who became Newton-Wellesley Hospital president in October 2016, immediately made the delivery of high-quality, safe care with a great experience a primary strategy for the hospital. To achieve this strategy, Dr. Jaff focused the team on high-reliability and the elimination of harm.
Jaff created two new positions—Chief Quality & Experience Officer and Associate Chief Quality Officer, VP of Patient Experience and Medical Staff Services—to lead the high-reliability strategy.
Newton-Wellesley leveraged other hospitals in the Partners HealthCare System that had already undertaken the high-reliability journey to learn about their experiences. A core team at Newton-Wellesley then drew up strategic plans for each component of the HRO framework, along with a roadmap for implementation of each tactic.
Throughout the process, the hospital participated in MHA's Clinical Issues Advisory Council and the MHA-led HIIN. It completed the Joint Commission's Center for Transforming Healthcare ORO 2.0 tool to assist with further defining the roadmap.
Newton-Wellesley also added Patient Family Advisory Council members to the Patient Safety Steering Committee, and the Experience/Engagement Work Group.
The Newton-Wellesley team underscored the following key takeaways:
First and foremost, the journey toward HRO has no end; rather it is a continuous, never-ending journey.
Top leadership needs to make HRO a focus.
It's important to set the quality goal as "zero harm."
It is imperative to develop a "roadmap" for implementation and to use robust process improvement tools to hold leadership and staff accountable.
Adding patient and family advisory council members to the process through active participation in key committees also proved invaluable to Newton-Wellesley's effort.