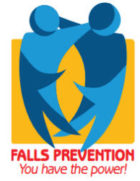 Why is falls prevention important?
FALLS ARE COMMON
Falls are the leading cause of fatal and non-fatal injuries for older Americans.
1 in 4 older adults falls each year.
Every 11 seconds, an older adult is treated in the emergency room for a fall.
Every 19 minutes, an older adult dies from a fall.
FALLS CAN CAUSE SERIOUS INJURIES
Falls result in injuries, such as hip fractures, broken bones, and head injuries. In fact, more than 2.8 million older adults are treated in emergency departments annually because of a fall, resulting in over 800,000 hospitalizations.
FALLS ARE COSTLY
The average hospital cost for a fall injury is over $30,000. Falls, with or without injury, carry a heavy burden on quality of life.
After a fall, many older adults develop a fear of falling and, as a result, limit their activities and social engagements.
Fear of falling can result in further physical decline, depression, social isolation, and feelings of helplessness.
FALLS IMPACT CAREGIVERS, TOO
Research has shown that after a care recipient's first fall, caregivers report a significant increase in caregiver burden, fear of falling, and depression.