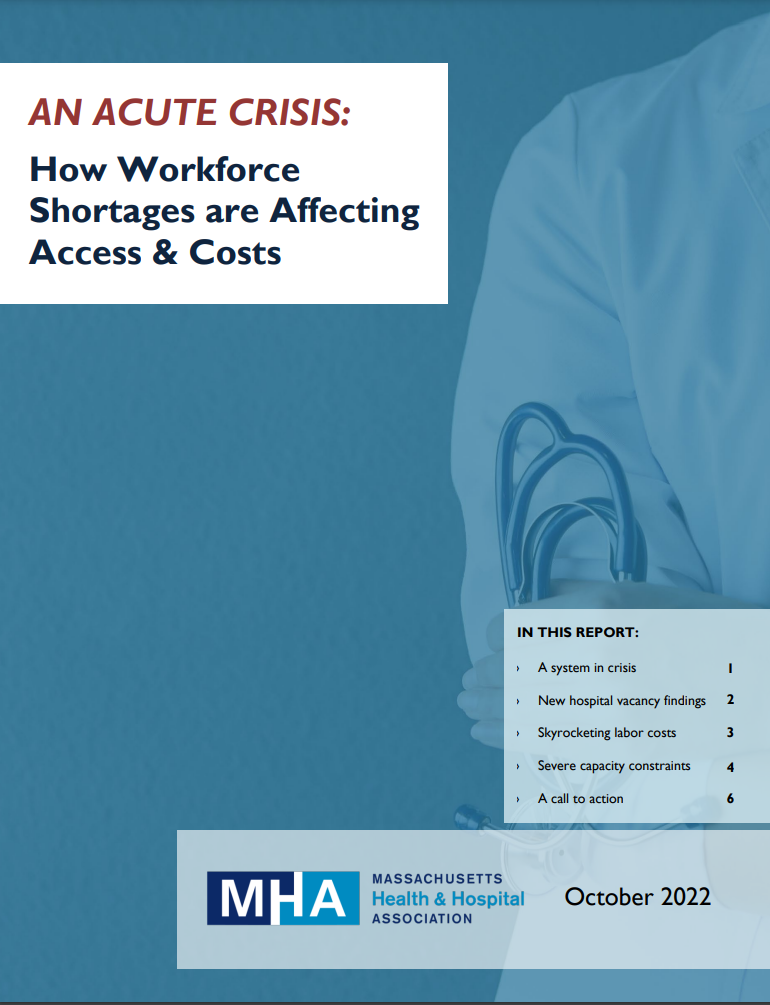 A new MHA report, An Acute Crisis: How Workforce Shortages are Affecting Access & Costs, shows that there are an estimated 19,000 full-time job vacancies across Massachusetts hospitals, which has led to the closure of hospital beds and services, steep financial losses for facilities, and access challenges for
patients.
Fewer workers mean that fewer beds are available to patients at a time when demand for services due to patient care deferred during the pandemic is increasing. The workforce shortages are causing longer wait times, severe backups in transferring patients from emergency rooms to inpatient beds, and difficulty in transferring patients out of the hospital to post-acute care.
MHA's report also details how the workforce crisis is putting additional financial pressures on hospitals, which are increasing wages to retain and attract workers, and expending historical amounts of money – up to approximately $1 billion this year – on nurse traveler agencies.
At any given time, more than 1,500 patients are stuck in acute hospital beds as they await placement to a specialized behavioral health bed or post-acute care. Approximately 20% of behavioral health beds in the commonwealth have been taken offline due to workforce shortages. Across all care disciplines, patients and their families are experiencing delays as they seek healthcare services.
"It is essential that community members and leaders understand the dire set of circumstances under which hospitals are now operating," said Steve Walsh, president & CEO of MHA. "Our healthcare system has never been more fragile, and its leaders have never been more concerned about what's to come in months ahead. They are exhausting every option within their control to confront these challenges, but this is an unsustainable reality and providers are in dire need of support. Healthcare organizations, payers, public officials, and the public must come together to find solutions before access to care is jeopardized."
The MHA report also includes recommended steps Massachusetts can take to address the workforce crisis in the short- and long-term. While there are no easy solutions, priorities include the continuation of workforce flexibilities that have helped sustain hospital operations throughout the pandemic, advancing new models of care, taking bold steps to expand the professional pipeline, and investing in new training and educational opportunities for current workers. Recommendations also speak to the need for enhanced supports and protection for healthcare personnel.
The report, which details how many factors beyond hospitals' control are destabilizing the Massachusetts healthcare system, comes at a time when the state's Health Policy Commission is discussing further constraints on that system. The most recent state report shows that 78% of reporting hospitals showed negative total margins. While throughout the pandemic, state and federal government have provided meaningful relief funding, hospitals and their affiliated providers have reported an excess of $2.5 billion in pandemic-related losses.