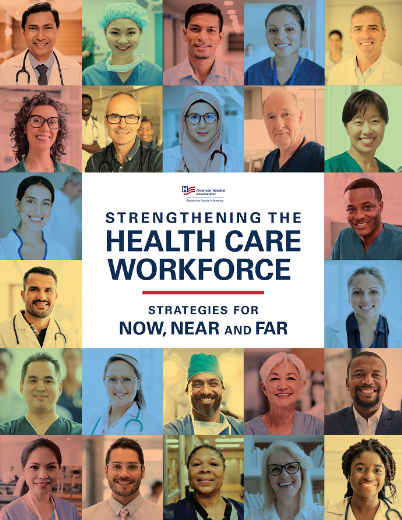 The AHA has released the fourth section of its workforce strategies guide, which is designed to help hospital and health system leaders navigate workforce challenges and opportunities. It focuses on hiring veterans, professional governance models, and academic-practice partnerships.
The guide was informed by the AHA Board of Trustees' Task Force on Workforce and includes strategies, resources, and case studies from hospitals and health systems across the country.
Section 1 offered strategies and resources to support workforce wellbeing and behavioral health and prevent workplace violence. Section 2 focused on data and analytics, as well as technological supports. Section 3 focused on recruitment and retention, diversity and inclusion, and creative staffing models.
View AHA's workforce webpage to download the all four sections of the guide, as well as additional resources.